The LOREO Lubot is a new loupe with smart looks and top quality features not found on loupes costing more than twice as much.

The Lubot is a 10x mini-sized high performance power house. Its high-tech three element optical configuration incorporates a computer designed aspherical lens, which produces ultra sharp images across the entire viewable image area. This extremely wide field of view is infinitely superior to that produced by conventional two element optical systems. The Lubot offers a flat field of view, with visual limits the user can cover without having to refocus the eye. This permits the loupe to be used continuously over a prolonged period without eyestrain or fatigue. Not only is this loupe fitted with first class optics, it also combines the benefits of the popular jewelers' loupe with its covered lenses and small size, as well as the advantages of an ordinary 10x loupe with a clear skirt and graduated reticule.

The Lubot has an ingenious pair of clear collapsing skirts. When the skirts are opened completely and held against or placed on an object to be viewed, the Lubot is automatically at the correct distance for proper focus. The lens assembly is adjustable so that many eye glass wearers can use the Lubot comfortably without their glasses.

When set at their intermediary click stop position, millimeter and inch reticule scales on the skirts enter the field of view. These amazingly accurate scales are molded into the skirts and will never rub off or dissolve when cleaning is required. They are indispensable in determining sizes of viewed objects. Closing the skirts completely covers and protects the bottom of the lens assembly from dirt and scratches.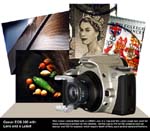 Owners of standard or digital SLR cameras who have a LOREO Lens in a Cap can slot the Lubot onto the Cap and take ultra-macro photographs (see sample photos below). Some users have reported being able to take ultra-macro photos without a Lens in a Cap. This is done by placing the camera lens directly above the Lubot. Loreo recommends that people doing this should use a tripod and take special care not to scratch their lens with the rim of the Lubot. Using a Lens and a Lubot has the added benefit of capturing the full view with no distortion.
The Lubot is provided with a round top cover whose form blends perfectly with the loupe body. This cover provides protection for the exposed top lens assembly as well as adding to the aesthetic beauty of the Lubot.

The Lubot is available from Loreo Asia Ltd.

Technical Information

Purchasing
Product Photographs
Sample Photographs (using a Lens in a Cap with a Lubot attached)
Lens and a Lubot Gear
User Photographs

Interesting Links
- - - - -
Return to the Loreo Homepage.
E-mail: info@loreo.com